EJS
2020
This is a project based on my grandfather, Edward Jack Shamwana.
In 1964 Zambia was awarded independence with Kenneth Kaunda as President. In 1972 Kaunda imposed one-party rule on Zambia, ensuring his party's uncontested power and dictatorship. Kaunda's leadership caused increased unemployment and poverty, prompting my grandfather, along with twelve others, to plan the first of many coups to over throw the dictatorial government. However, they were caught and arrested in 1980. My grandfather spent 10 years in prison, spending time on death row, sleeping on concrete floors and being tortured before he was finally released in 1990, following the downfall of Kaunda's presidential reign.
I created a second book, as a further exploration from my initial project, '
Shamwana
', that uses multiple perspectives to tell the story. This book's narrative also surrounds my grandfather, Edward Jack Shamwana (EJS), and his ten year incarceration in Zambia. All of the text included is completely verbatim, taken from interviews, journals and letters. I aimed to tell this story with further dimensions to it than I had previously explored.
I used four key perspectives. These were:
Edward Jack Shamwana
Stella Mary Shamwana (wife of EJS)
The newspapers and other media
The four Shamwana sons
(Edward Jnr, Malcolm, Clive and Chris)
Zambia has a brightly coloured flag full of meaning and symbolism. I wanted to use this and relate each colour to each voice in the narrative – matching the personalities to the meaning behind the colour in the flag.
I selected the combination of Adobe Caslon Pro and Neue Kabel as my type choices for the book. I wanted the combination of a decorative serif font for the statements within the publication, accompanied by a clean, rounded sans serif to support as the body text. Each voice within the book also uses a slightly different weighting within the typeface family, adding another emphasis on the contrasts in perspective.
I am thrilled to have this project featured on the
Design Week
website as one of their favourite graduate projects of 2020. You can read the article
here
.
As I completed this project during the COVID-19 pandemic, I was originally unsure if I would be able to print and bind it myself, however during summer 2020 I was able to re-enter the studios.

I handbound two copies of the book, using coptic binding with red bookcloth hard covers. It is enclosed in a black wrap around case with a Zambian fabric belly bind.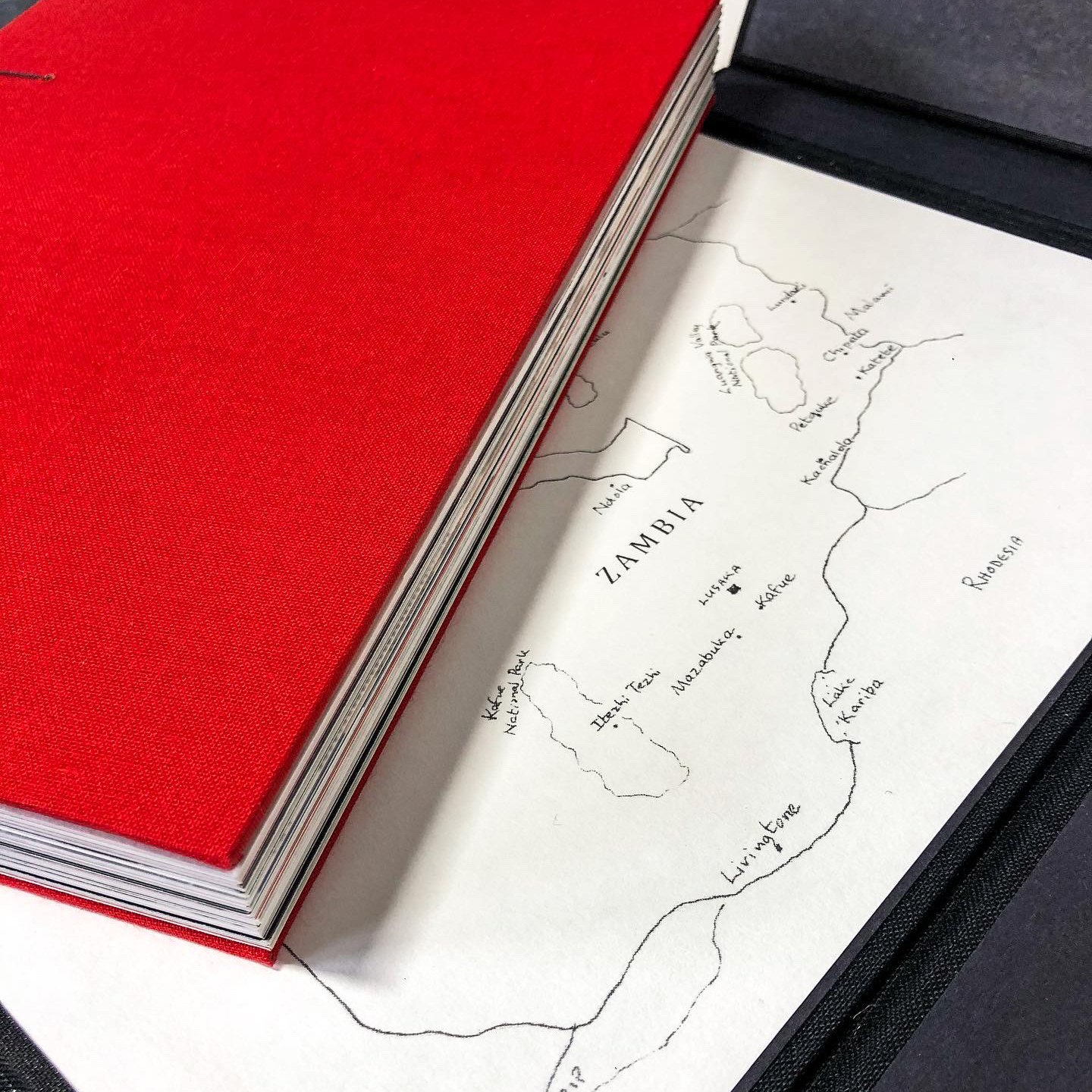 ---